Late to the party, and pretty slack in the new movie viewing department this year…I ended up on only seeing 3 of the top 10 grossing movies of the year, and only saw a handful of the films that I'm seeing showing up in most critics' best of' lists…
Maybe it's because of that and I'm wrong, but 2018 didn't feel like a great year for movies for me, despite what a lot of critics are saying. It also felt like a year where I spent much more time watching TV series and oddities on Netflix/ Amazon Prime/ Now than films. As for terrestrial TV? I think with the exception of Inside Number 9 I could quite happily do without it completely these days.
So without further ado, in alphabetical order, my top ten movies of the year, some disappointments, and admissions of neglect which I'd like to have seen before getting this little list written.
2018 Top Ten
22 July – Paul Greengrass' account of 2011's murder of 77 young people on Utotya Island, outside of Oslo, was released in various formats including a pretty-much simultaneous release in cinema and Netflix, and, in the US at least, as a three-part story. The initial event is neither glamorised nor dwelt upon: the focus being the aftermath for all concerned: the perpetrator, the victims, the lawyers and Norway's political system itself. Of course it's not an easy watch but it is an important one. That can often be a warning flag for me…if a movie is described as 'important' it can often mean it's a long slog, but with Greengrass' skills and the acting performances on screen the film is sensitively and thoughtfully made. If it gets out to a wider audience through it's fairly innovative release approach, then that can only be a good thing.
Avengers: Infinity War – by the time I watched Ant Man and the Wasp, which was perfectly fine, I have to admit there were elements of superhero fatigue starting to set in. Something I didn't think I'd ever say. Maybe it was the aftermath of A:IW and the emotional fall-out from seeing it. I appreciate this seems a little insensitive given the previous choice of real life death but this list and my viewing choices this year don't live in an interlinked fashion. Not really much to say about this film that hasn't been said…but the size and scope, and the management of a character roll call this big was handled with some deftness by the Russo Bros. And that ending…while it may not have been a shock for anyone familiar with the original source material, the vast majority of the audience – certainly in the cinema I saw it in were generally shocked…and if they were expecting the now obligatory post credit scene to offer any sort of 'nah, it was just a joke', then they left with crying children (and a few geeks) all around them with looks on their faces suggesting a "WTF did I just see…?" question front and centre in their mind. The end is nigh…
Bad Times at the El Royale – already reviewed elsewhere on this site. What I said there.
The Big Sick – this one may be debatable as to release, given it was another one with a bit of a model-breaking release plan. Personally, I saw it very early this year when it came to Amazon, so sue me. A 'based on true events' story of Kumail, a wannabe stand-up comedian, who meets and falls in love with Emily (Zoe Kazan), who suffers a sudden illness requiring her to be put into a medically induced coma. There's a lot going on beyond what the movie could have been in lesser hands: yes, there's the protagonist's traditional family who don't get his career or relationship status, the 'wacky' parents of the hospitalised woman, the snarky best friends…you know the sort of thing. But it's a lot of fun, and the characters are all pretty much lovable. I didn't love it as much as a lot of critics seemed to in the early awards shows, but it was certainly one of the better warm-and-fuzzy movies of the year.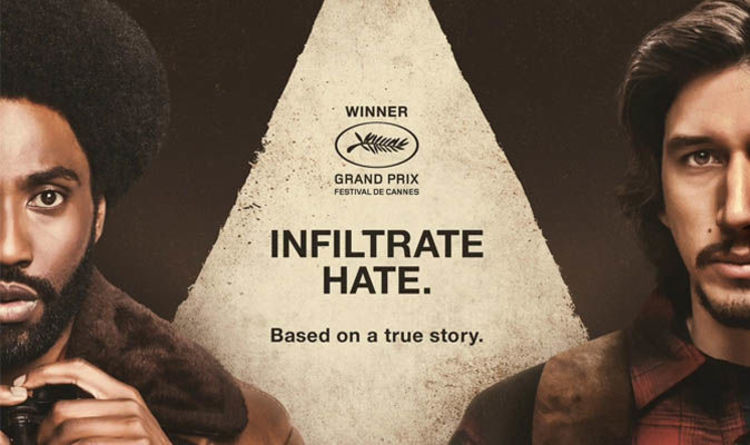 Blackkklansman: Spike Lee's return to critical success and political bite after a few  'studio' efforts like OldBoy (shudder), Inside Man and others of varying quality. It's not subtle (but then when has that ever been a trait of Lee's?) but it's effective, interesting and, at times fun  –albeit in a pantomime comeuppance sheen over 'real-life' events. The performances are pretty much uniformly strong – John David Washington and Adam Driver are great in the lead roles, but the whole cast are good, often in the most cardboard stereotypical roles imaginable (y'know…some of the stereotypes that Lee is so fond of bringing into the light in others' movies, but has had levelled at his own work over the years…). Lee throws a lot at the film, both on screen (dramatization, real footage, a whole range of camera techniques and editing choices) and around it (Terence Blanchard's score is as good as anything he's done). The movie plays with its source material fast and loose but as a movie it's the best thing Lee's done for years…or, to be fair, it makes me realise I stopped watching Lee a long time ago, and maybe should give a few of his more recent back catalogue a look at.
Black Panther: Another one really where there's not too much to be said that hasn't already been put out there. Ryan Coogler follows up on Fruitvale Station and Creed with one of the more interesting Marvel efforts. The world creation is impressive, and the story avoids the all-too-often 'end it all with a CGI fight out against a portal in the sky. Michael B Jordan steals the show. Yes, it's the Marvel blue print in terms of action/ quips/ set pieces but as a big screen effort it felt more vibrant than a lot of efforts.
The Death of Stalin: I'll watch anything Armando Iannucci puts out , whether on TV or film, and TDoS was no exception. Great cast, following on from In the Loop with a sly mix of British and US actors, and a script exactly as sharp and wrong as you'd expect. It might be another comic book adaptation, but it's about as far from Marvel/ DC as you'll get. And the line: "I know the drill. Smile, shake hands and try not to call them c***s." has to be one of the better pieces of advice for social engagement in film this year.
Don't Worry, He Won't Get Far on Foot: Gus Van Sant's portrayal of cartoonist John Callahan's road to recover from alcohol dependency, if not the paralysing accident that put him in a wheelchair shares some similarities with my feelings on Blackkklansman: one, that I recognise it plays a little fast and loose with the facts, the cast are outstanding (particularly Joaquin Phoenix and Jonah Hill in the lead roles, but with nice cameos from the likes of Jack Black), and that I should probably give a few of his recent efforts a look – I watched Milk back in 2008, but other than that it's been a long time since I sat down with a Gus flick. I liked a lot about this movie – more than anything, I think the fact it avoided the clichés of its premise: the irascible central character was pretty much that way before his accident and his road-to-recovery didn't go down that well-trodden path of bitterness and lashing out at anyone trying to offer friendship. It doesn't sound the most appealing subject matter, but there's a lot of heart in this film, and it's at times laugh out loud funny.
First Reformed: Paul Schrader writes and directs his best film since Mishima, and pulls out a lot of his Taxi Driver in this study of a minister (Ethan Hawke, who really should be a good shout for this year's Best Actor Oscar) in a small upstate New York who is trying to work his way through a lot of things, even before a suicidal eco-warrior lands on his doorstep. Schrader's consideration of the personal past tragedies of Hawke's character as he maintains the micro world of a barely inhabited church, against a world back drop of his trying to answer his parishioner's despair  of more worldwide events is one of the bleakest portrayals of a man's breakdown and reaction since his own script for Taxi Driver over 40 years ago.
Tully: Jason Reitman's direction of Diablo Cody's script didn't hit the mark at the box office, but was one of the best things I saw at home this year. Charlize Theron is great as Marlo, a mother struggling with the pressure of a new, third child. The arrival of the titular Tully as a night nanny to help her cope changes everything for her and those around her. As self-referential as would be expected from Cody this is no 'Hand that Rocks the Cradle', but rather a bonding story (in multiple ways.) I'm genuinely not sure if the ending is supposed to be a twist or not, or whether it's meant to be obvious, but I'll not talk about it in case it is…regardless, I know this one divided audiences, but I thought it cemented a few things for me – both Reitman as a director and, if it was still needed (it wasn't for me), Theron as a pretty fearless actor.
Honourable Mentions (in no particular order):
Wild Wild Country: this year wasn't as great for Netflix documentaries as recent years have been, but the story of the introduction of the guru Osho into the US and the growth of the spiritual communities dedicating themselves to him.
Game Night: a great example of getting a lot more than I was expecting from a random flick I stuck on, on a Sunday night. A dumb comedy around a competitive game night that goes awry, but with some real laughs along the way.
Annihilation: an ambitious piece from Alex Garland. I haven't read the book so I can't comment on how simplified, or cut down it is from its source material and while I didn't love the piece overall, it had some incredible set pieces in it: with the best tied to a piece of furniture scene since The Thing
Deadpool 2: it was always going to be difficult to live up to the first one in terms of just offering something different. Not sure how much it missed Tim Miller directing, how much was the script, and how much was just the novelty factor of the first. Ryan Reynolds was as lovable as ever, and the film was perfectly fine, but I didn't love it the way I did the first one.
Hereditary: every so often a horror comes along that really hits a nerve – and Hereditary seemed to be it this year. Touted as a 'thinking person's horror', it's a slow build, well-acted 'serious' piece. See Disapointments…
Ant Man and the Wasp: Paul Rudd is as engaging as ever, the effects were great, the action was non-stop, there were some funny moments, and it had a great post-credit sting. So why did I feel a little flat sitting watching AM&tW? Maybe it was because the original had done most of the stuff I wanted to see from the character, or maybe it was just the first signs of superhero movie fatigue setting in…something I didn't think I'd ever hear myself saying…It was…perfectly fine. Like Deadpool 2.
Disappointments:
You Were Never Really Here: I know this made a lot of critics top ten. It just didn't work for me. And I was looking forward to it sooo much.
Terminal: a Tarantino wannabe movie which just bored with its attempts at pop culture overkill and a series of twisty turns none of which twisted, turned or worked. Despite a good cast this really didn't work at all for me.
Ghost Stories: I love a horror anthology and had big hopes for this given the pedigree of the creators but after a promising first ten minutes I thought it flopped into a few stories that didn't really gel together, and didn't really stand strongly enough on their own. Probably one of my biggest disappointments of the year.
Hereditary: so it was an honourable mention, but it was also a disappointment, because it could  have been really good. But it wasn't. There were bits in it that I thought worked fantastically well, but it ultimately dissolved into a bit of a muddle and had the most disappointing ending of an up-to-then interesting film since Ben Wheatley's Kill List for me.
Gotti: only in the sense that it wasn't quite as bad as I was hoping it would be. Oh, Eric from Entourage: no more a director than an agent. It did make me remember Goodfellas fondly though.
Skyscraper: Die Hard in a building. (That's very lazy – that joke has been done to death): I like The Rock and I was hoping this would be as much fun as other sub-Die Hard flicks like Sudden Death, Cliffhanger or the other The Rock) but it just felt…long…and meh.
Wish I'd Seen: as I say, there was a whole ton of stuff I didn't see this year. Incredibles 2, American Animals, Mission Impossible: Fallout, Widows, Spider Man: Into the Spiderverse, Roma, A Quiet Place…what can I say – there's been too much writing going on…